Some food-related (mostly) things we enjoyed this past week:
We finally got around to disposing of several old, outdated, heavy and giant-backed TVs cluttering up our garage.  We haven't used them in years, and I think one of them may even belong to my brother (sorry J!), but didn't really know what to do with them.  I discovered that the city of Dallas has a free "e-cycling" program for old TVs and computers, so we loaded up the car and dropped them off.  We also got rid of an old desktop computer that hadn't even been turned on in maybe 10 years.  Kind of makes you wonder what will eventually replace the super-slim HD TVs and lightweight laptops, iPads and smart phones we currently use.  Microchips in our brains maybe.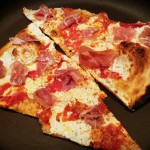 The end of summer means the beginning of football season, which also means fantasy football drafts.  Dan had his first one the other night (he's in two leagues) so I was solo for dinner.  We happened to have a couple slices of leftover cheese pizza, which I topped with some prosciutto torn into small pieces, then re-heated in a dry skillet on the stove (best method for getting a crisp crust on leftover pizza.)  It tasted even better than the original pizza, and Dan drafted a pretty decent team.  Win, win.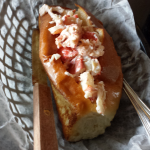 Dan's fellow lobster-loving friend (Hi Chris!) and superstar-restaurant-sleuth has discovered the hands-down best lobster roll in Dallas.  Chris is great at finding and recommending all the best eateries around town, and 20 Feet Seafood Joint is right up there with some of his other quality finds.  Dan says the lobster roll was so authentic that if it hadn't been 102 degrees at lunch that day, he would have thought he was in Maine.  He also said the clam chowder was equally authentic and amazing.  With a food friend like Chris around, Dan's going to have start working out more.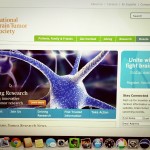 This week marked five years since Dan's dad passed away after battling a brain tumor.  Since then, the National Brain Tumor Society is a charity that has become important to us, as it fights brain tumors through research, advocacy and patient services.  Thursday seemed like a good day to honor the Big Guy and help us feel empowered against this terrible disease by making a donation to the NBTS.  Cancer sucks, but we will always have an anchor of hope that someday there will be a cure.