Some food-related (mostly) things we enjoyed this past week: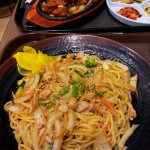 We've mentioned it before, and last weekend made a pilgrimage to the always awesome Asian grocery store, Super H Mart, for Dan's kimchi fix (stay tuned for a post on kimchi fried rice in the near future.)  We've always been curious to try something from the food court there, and are so glad we finally did!  I had a noodle stir fry dish with chicken, Dan had a spicy Korean chicken dish (similar to this), and we were quite impressed with both meals, which tasted like they came from a high-end Asian restaurant, rather than a grocery store food court.  Our only disappointment is that we were too full to order anything from the little dumpling shop.  Next time.
Whenever I find calla lilies on sale, I usually buy a few.  We used them in our wedding, so I'll always have a soft spot for them.  Plus they last at least a week if you get them really fresh.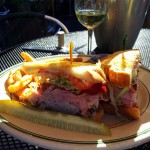 We both have a soft spot for a nice lunch on a patio.  While the Northeastern half of the country is experiencing record low temperatures (sorry suckers friends and family who live in those places!), we've been lucky to enjoy a few unusual-for-January days with temps in the 70s.  Yet we will still likely have at least a few more cold-enough-for-a-fire-in-the-fireplace days before Spring officially arrives.  Fickle Texas weather at its finest.
I debated whether to post anything here, especially since it certainly is not a "favorite" by any means, but ultimately decided I couldn't talk about our week without mentioning a significant family event.  Last week we lost our much beloved Aunt Ella, who passed away after a massive stroke.  Ella is my dad's aunt and somewhat of a matriarch of our family.  Although she never married or had children of her own, Ella looked after so many of us in her very special, loving way.  Not just family members either — she touched lives and made a difference for countless people in her community, church (where she was a member for 80 years!) and life's path.  She lived a long and fulfilled life — the kind that makes you stop and wonder what you might do to improve your own journey and live better — and passed the same way she lived:  with peace, grace and her quiet, comforting presence available to all the many loved ones who came to say goodbye.  We will dearly miss our sweet Aunt Ella.  May her soul and all the souls of the faithful departed rest in peace.