Some food-related (mostly) things we enjoyed this past week:
Dan's mom was in town last weekend, and we took her to Remington's Seafood Grill for dinner Saturday night.  I had one of the chalkboard specials (don't you love a place where they write the chalkboard specials with chalk on an actual chalkboard?) — soft shell crab.  It was amazing — delicately crispy on the outside with sweet, delicious crab meat inside.  It was the kind of dish that is so good that when you ask your dining companions if they want a bite, you secretly hope they say no.
We updated (and improved) this black bean recipe by adding a jalapeno and a little bacon, and transformed the leftovers into a dip with sour cream, garden-fresh tomato and avocado.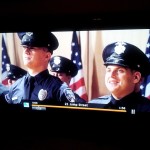 The movie "21 Jump Street" just came out on DVD.  If you like a silly "buddy" movie with pause-replay-scene-missed-it-laughing-too-hard dialogue and physical comedy, then you'll probably like this film.  And keep an eye out for cameos by the actors from the original TV show (which, ironically, was a serious drama.)
We love a good tuna sashimi with crispy wontons dish, and this one from Malai Kitchen is one of the best we've tried.  Unfortunately, it's not on their regular menu so we're not sure what all was mixed in with the tuna (onion? tomato? cucumber?), but all of the ingredients complemented each other well and did not overpower the tuna.  Malai is a great restaurant with lots of good menu choices, but this off-menu, periodic special is one worth stalking.
Dan sweetly brought home a "just because" bouquet of mixed blooms recently, and these white flowers have lasted almost 2 weeks!  Not sure what they are — they look like some sort of rose hybrid — but they are long-lasting and low-maintenance.  All I've done to them is remove any wilted blooms and make sure they have water.  They'll probably last another week or so.